La centralina, a seconda del modello, permette di gestire da 2 a 8 docce, tramite il Microchip CH1. Consente di dare il servizio gratuitamente o a pagamento. Con l'ausilio del pulsante al'interno della doccia, è possibile attivare la doccia,
bloccare l'acqua ed il tempo, fino a quando non viene premuto una seconda volta. E' possibile,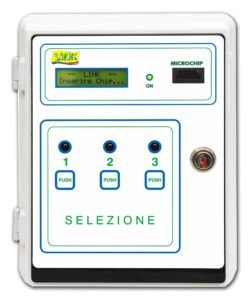 montandoci i modulo MDA, controllare la data di scadenza del Microchip CH1 e gli accessi. Se viene
montato il modulo MCP, è possibile collegarla al computer. Inoltre è possibile collegarci una
gettoniera GET.
SHOWER CONTROLLER WITH TIME STOP – MD0XBT
It allows to manage in the best way from 2 to 8 showers, through Microchip CH1. It can give the service
for free or with a payment. With the aid of the button installed inside the shower, its possible to activate
the shower, and stop to the water and the time, until the button is pressed again. It's possible to control
the expiration date of Microchip CH1 and the accesses installing the MDA module. It is possible to
connect it to a computer installing the MCP module. Moreover it is possible to connect a GET chip holder.